The 14th Dalai Lama
His Holiness the 14th Dalai Lama is a spiritual leader of not only the  Tibetan people but of all those who profess Buddhism, all over the world.  He is also the head of state of Tibetans.   His Holiness is one of the most respected and beloved man who has been promoting the cause of justice, humanity, and freedom.
Is The Dalai Lama a Bodhisattva
For the Tibetans, he is the 14th re-incarnation of Avalokiteshvara, the Boddhisatva of Compassion. In Tibet, it is believed that a Bodhisattva chooses to be reborn repeatedly so that they may be of further service to humankind.   The Dalai Lama is a person who is believed to be the reincarnation of Chenrezig, the patron Saint of Tibet, and Avalokiteshvara the Bodhisattva of Compassion.  It is, therefore, no wonder that the Tibetan people refer to their spiritual and political leader of Tibet as a god-king or a living Buddha and worship him.
Dalai Lama Childhood 
The Tibetans also refer to his holiness the Dalai Lama as Yishey Norbu (Wish-Fulfilling Gem or just Kundun  (Presence).  He was born on July 6, 1935, in a village called Pari Takster, in the Amdo region, in North-Eastern Tibet.  When he was just 2 years old, he was officially recognized as the latest reincarnation of the Dalai Lama.   It meant that the young child had to leave his home at an early age for rigorous religious teachings. His teachers, the Monks taught him Sanskrit, Philosophy, Art, and many other subjects.  At the age of 23, he received a degree known as the Geshe Lharampa. This is considered the equivalent of a doctorate in Buddhist philosophy.
Tibet an Independent Country 
Before Communist China occupied Tibet in 1959, the young Dalai Lama ruled and governed an independent country of Tibet, the size of which was equal to Western Europe.  With the 1949 Chinese invasion of his country, His Holiness assumed political power in Tibet.  He asked for only peace and freedom for his people, but this was not to be. There was a brutal crackdown on the Tibetan people by the Chinese government in 1959.  His Holiness the Dalai Lama was just  24 years old, when he had to flee, in disguise, into India days before the Chinese bombed his summer palace in Lhasa, the Tibetan capital.
Dalai Lama Asylum in India
In India, the Indian Prime Minister Jawaharlal  Nehru granted tracts of land for the homeless leader and the 80,000 Tibetans who had followed him into exile in India.   The Tibetans were grateful for the shelter in India, after facing Mao Tsetung's brutal repressive troops, however, they continued to suffer in India for some time.  There was a vast change in the climate; from Tibet's cold, dry high-altitudes to India's low-lying heat and humidity, it was too much for the Tibetan people.  Thousands of Tibetans fell ill and died from malaria and dysentery.  Their bodies were unable to cope with this extreme change in the climate.   However, under the guidance of His Holiness the Dalai Lama, the Tibetans gradually began to thrive in India.  Today they are one of the world's few "successful" refugee communities, who have done exceedingly well in life.
Dalai Lama Nobel Peace Prize – 1989 
The Dalai Lama, throughout the decades of years in exile, has been fighting a David and Goliath battle for Tibetan independence against China. The incomparable dignity and grace of his untiring efforts to promote a peaceful resolution to the problem were rewarded when he won the 1989 Nobel Prize for Peace.
Loving Kindness Dalai Lama
Remarkably, the Dalai Lama bears virtually no hard feelings for the Chinese and has followers from the Chinese people as well.   When asked if he hates the Chinese, he inevitably responds "no, not really," or "almost not."   Dalai Lama believes and insists that there is no use of developing a hatred for the Chinese.  In fact, as he says, it makes more sense, instead, to develop respect and compassion for them.
Dalai Lama Happiness and Humor
For all the isolation, austerity, premature responsibilities, and suffering he has endured, the Dalai Lama is a remarkably jolly and embittered man.   The Dalai Lama is gifted with a keen sense of humor, and when he laughs his entire body takes part.   The fact that he is able to laugh, in spite of going through some of the worst hardships and adversity that he has experienced during the past several decades, suggests that he is a man who has found inner peace and is today one of the greatest spiritual leaders for peace all over the world.
Teachings of Dalai Lama Non Violence Compassion
Ever since then, His Holiness has resided in Dharamsala, in northern India. His philosophy calls for non-violence, rational behavior, compassion, and cooperation. The Dalai Lama has won the Nobel Peace Prize in 1989, which was awarded to him in recognition of his non-violent, peaceful teachings.  It was also in recognition of his  campaign of more than fifty years to end China's domination of his homeland Tibet in a non voilent and peaceful manner.
Dalai Lama Inspirational Quotes
His Holiness the Dalai Lama travels all around the globe spreading his message of compassion, love, peace and  non violence. Here are some of th2 Best Dalai Lama Inspirational Quotes that will inspire you and bring peace within you.
Only the development of
compassion and understanding
 for others can bring us
the tranquility and happiness
we all seek !
To conquer oneself is
 a greater victory than
to conquer thousands in a battle!
PLEASE VISIT MY YOUTUBE CHANNEL, WATCH, LIKE AND DONT FORGET TO CLICK ON THE SUBSCRIBE BUTTON !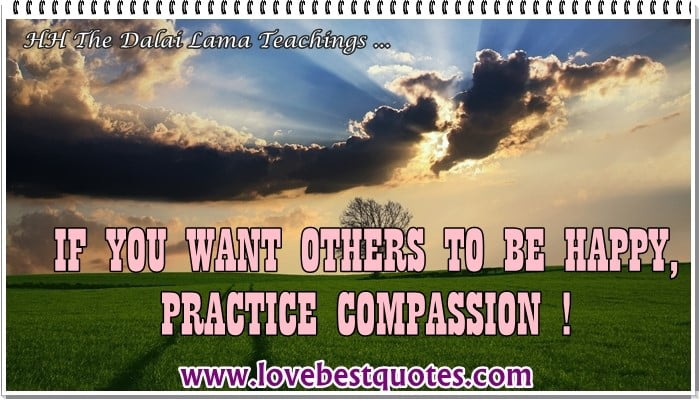 If you want others to be happy,
practice compassion !
Happiness is not something
ready made ! It comes
from your own actions !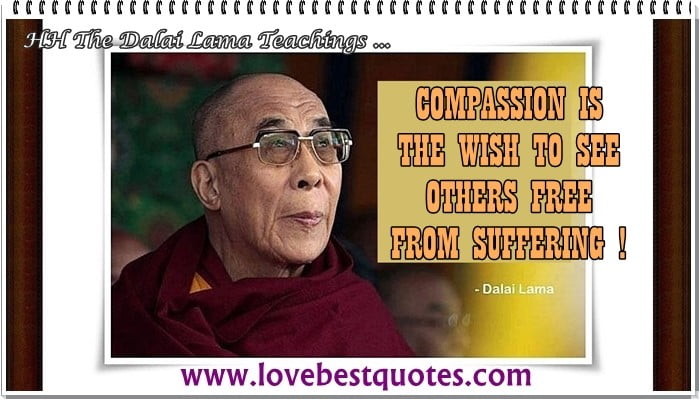 Compassion is the wish
to see others free
from suffering !
More "Inspirational Quotes from Dalai Lama" !
A truly compassionate attitude
toward others does not change
even if they behave negatively or hurt you !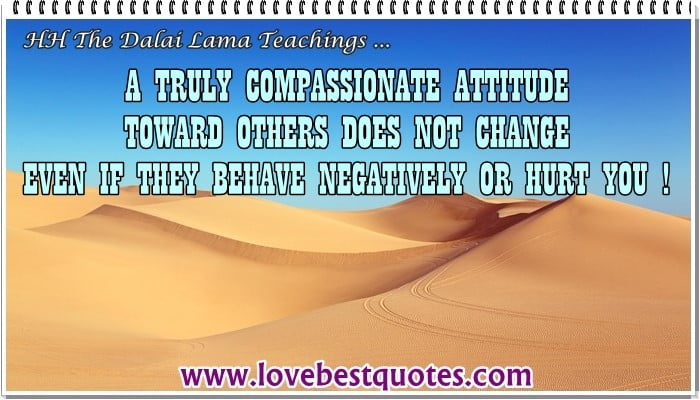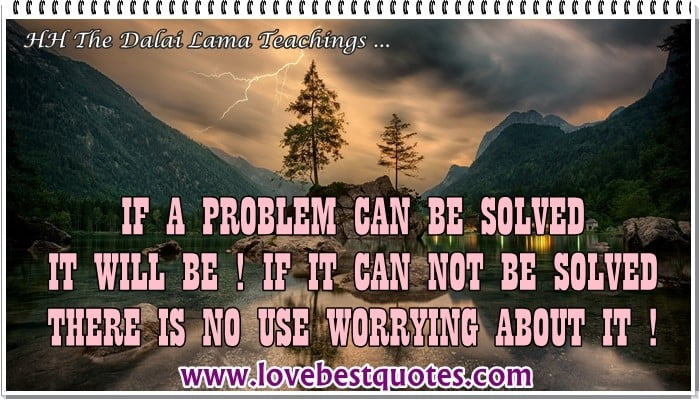 If a problem can be solved
it will be ! If it can not be solved
there is no use worrying about it !
There is no need for temples;
no need for complicated philosophy !
Our own brain, our own heart
 is our temple; the philosophy is kindness !
There are two autobiographies of His Holiness the Dalai Lama. The first 'My Land My People' was published in 1962. His second autobiography 'Freedom in Exile was published in 1991 and continues to be popular.