Muhammad Ali The Greatest 
Muhammad Ali, one of the greatest boxers of all time is one of the most important athletes and cultural figures in the American history. He was not only the greatest in the ring but was a famous philanthropist as well. He was very outspoken about his anti-war stance due to which he was stripped of his title in 1967, when he refused to be drafted into the US army.
Childhood of Muhammad Ali
Muhammad Ali was born a Christian, Cassius Clay in 1942 in Louisville, Kentucky. Ali started boxing accidentally at the age of 12. The story is that his bike was stolen and he went the police, told the police officer that he wanted to beat up the thief who stole his bicycle. The police officer happened to be Joe Martin, a boxing instructor, who told Ali should learn how to fight before he started telling people he would beat them. This police officer just happened to train people in boxing at the local gym and Ali started going there and learned how to fight. He began to compete soon after that, and won several amateur competitions. He starting sweeping many titles in the amateur boxing circuit.
Ali at the 1960 Summer  Olympics
Ali quickly became a great boxer, and in 1960 went to the Olympics in Rome as a member of the U.S. boxing team. On 5 Sep 1960, Ali won the light heavyweight gold medal and became very famous for his boxing. After winning gold in Rome and on return, he turned professional. In 1964, he became the heavyweight champion of the world. Boasting a 19-0 record, he won the heavyweight title at the age of 22 by beating Sonny Liston, the then world champion.
Ali Muhammad Ali Boxing Career
He took a break from boxing in the late 1960s because of legal issues, but returned in 1970 and boxed for 11 more years before retiring in 1981. During this time, he won the heavyweight title in 1974 after defeating George Foreman in a famous fight in Zaire. He was very proud of his achievements, and called himself 'the greatest.' He is famous for saying that he would 'float like a butterfly, sting like a bee' in the boxing ring.
Muhammad Ali Converted to Islam
In 1964, right at the height of his boxing career, Ali converted to Islam and joined the Nation of Islam, a black Muslim religious group. He changed his name officially to Muhammad Ali.
Ali's Battle with Parkindson's Desease
Muhammad Ali, the king of the ring, breathed his last on Saturday after a 30-year battle with Parkinson's disease. Though he passed away in 2016, the heavyweight boxing champ was larger than life in and outside of the ring. The man who coined the phrase "float like a butterfly, sting like a bee won 37 knockout victories and his life has inspired generations of people. Here are some of the greatest inspirational quotes by Mohammed Ali, the Greatest Boxing legend of all time.
Here we bring 21 Best Muhammad Ali Quotes that will Inspire and Motivate You to acheive Success in Life.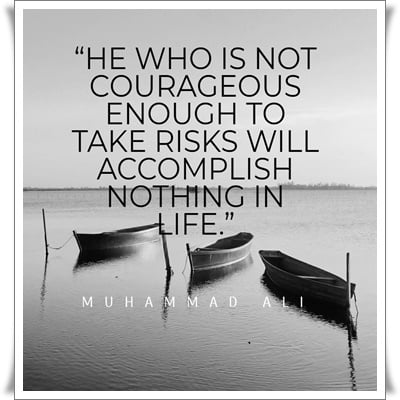 MY TOUGHEST FIGHT WAS WITH MY FIRST WIFE. 
….MUHAMMAD ALI
MY WAY OF JOKING IS TO TELL THE TRUTH. THAT'S THE FUNNIEST JOKE IN THE WORLD. 
….MUHAMMAD ALI
OLD AGE IS JUST A RECORD OF ONE'S WHOLE LIFE. 
….MUHAMMAD ALI
I WISH PEOPLE WOULD LOVE EVERYBODY ELSE THE WAY THEY LOVE ME. IT WOULD BE A BETTER WORLD.
….MUHAMMAD ALI
IT'S HARD TO BE HUMBLE, WHEN YOU'RE AS GREAT AS I AM.
….MUHAMMAD ALI
"LIVE EVERYDAY AS IF IT WERE YOUR LAST BECAUSE SOMEDAY YOU'RE GOING TO BE RIGHT." 
….MUHAMMAD ALI
21 BEST SWAMI VIVEKANANDA QUOTES
WHAT KEEPS ME GOING IS GOALS." 
….MUHAMMAD ALI