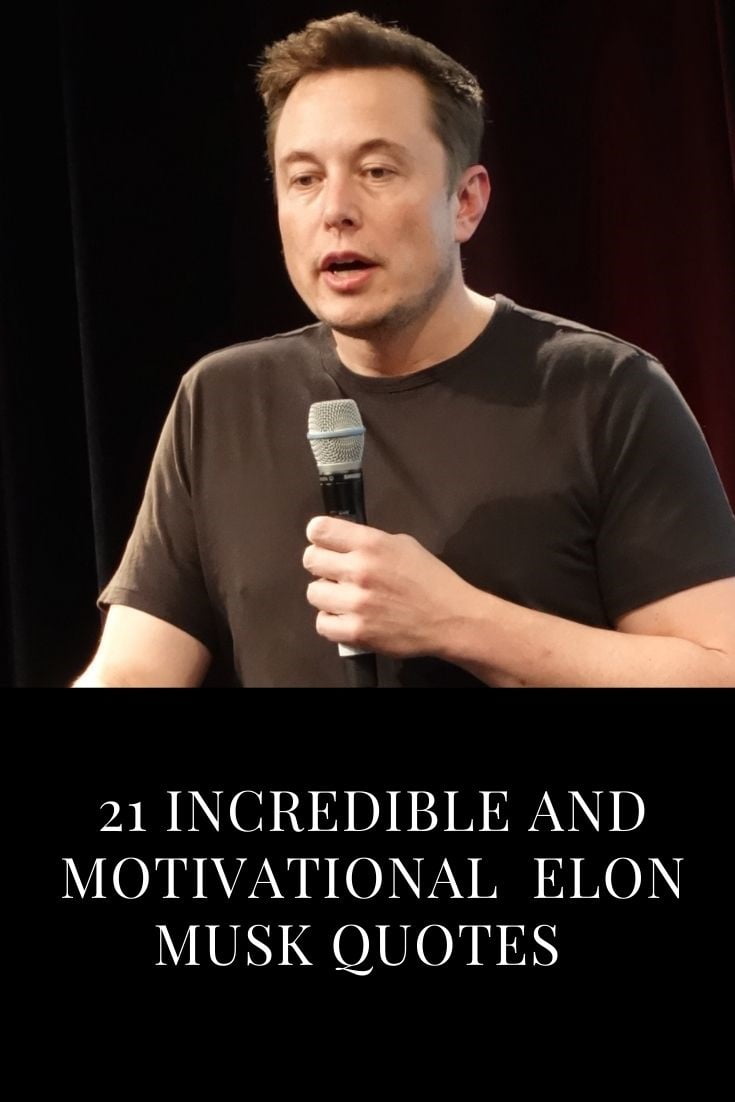 Incredible Motivational Quotes of Elon Musk the Scientist, Enterpreneur and Visiniory 
Before we look at some of his incredible motivational quotes, a brief about Elon Musk and his achievements.
Elon Musk co-founded and leads Tesla, SpaceX, Neuralink and The Boring Company. As the co-founder and CEO of Tesla, Elon leads all product design, engineering and global manufacturing of the company's electric vehicles, battery products and solar energy products.
Since the company's inception in 2003, Tesla's mission has been to accelerate the world's transition to sustainable energy. The first Tesla product, the Roadster sports car, debuted in 2008, followed by the Model S sedan, which was introduced in 2012, and the Model X SUV, which launched in 2015. Model S received Consumer Reports' Best Overall Car and has been named the Ultimate Car of the Year by Motor Trend, while Model X was the first SUV ever to earn 5-star safety ratings in every category and sub-category in the National Highway Traffic Safety Administration's tests. In 2017, Tesla began deliveries of Model 3, a mass-market electric vehicle with more than 320 miles of range, and unveiled Tesla Semi, which is designed to save owners at least $200,000 over a million miles based on fuel costs alone. In 2019, Tesla unveiled Cybertruck, which will have better utility than a traditional truck and more performance than a sports car, as well as the Model Y compact SUV, which began customer deliveries in early 2020.
Tesla also produces three energy storage products, the Powerwall home battery, the Powerpack commercial-scale battery, and Megapack, which is designed for utility-scale installations. In 2016, Tesla became the world's first vertically-integrated sustainable energy company with the acquisition of SolarCity, the leading provider of solar power systems in the United States, and in 2017 released Solar Roof – a beautiful and affordable energy generation product.
As lead designer at SpaceX, Elon oversees the development of rockets and spacecraft for missions to Earth orbit and ultimately to other planets. In 2008, the SpaceX Falcon 1 was the first privately developed liquid fuel rocket to reach orbit, and SpaceX made further history in 2017 by re-flying both a Falcon 9 rocket and Dragon spacecraft for the first time. Soon after, Falcon Heavy, the most powerful operational rocket in the world by a factor of two, completed its first flight in 2018. In 2019, SpaceX's crew-capable version of the Dragon spacecraft completed its first demonstration mission, and the company will fly NASA astronauts to the International Space Station for the first time in 2020. Building on these achievements, SpaceX is developing Starship – a fully reusable transportation system that will carry crew and cargo to the Moon, Mars and beyond ­– and Starlink, which will deliver high speed broadband internet to locations where access has been unreliable, expensive, or completely unavailable. By pioneering reusable rockets, SpaceX is pursuing the long-term goal of making humans a multi-planet species by creating a self-sustaining city on Mars.
Elon is also CEO of Neuralink, which is developing ultra-high bandwidth brain-machine interfaces to connect the human brain to computers.
He also launched The Boring Company, which combines fast, affordable tunneling technology with an all-electric public transportation system in order to alleviate soul-crushing urban congestion and enable high-speed, long-distance travel. The Boring Company built a 1.15 mile R&D tunnel in Hawthorne, and is currently constructing Vegas Loop, a public transportation system at the Las Vegas Convention Center.
Previously, Elon co-founded and sold PayPal, the world's leading Internet payment system, and Zip2, one of the first internet maps and directions services.
Elon Musk is the Steve Jobs of the present and the future, and he was shadowed by tech reporter, Ashlee Vance. Elon Musk: How the Billionaire CEO of Spacex and Tesla is Shaping our Future is an important, exciting and intelligent account of the real-life Iron Man.
Elon Musk is known for thinking outside the box, dreaming big and working tirelessly to achieve those dreams. Discover this maverick's story and how you could emulate him. George Ilian who has made his mark on the digital industry, is the author.
No wonder then that man of this calibre and outstanding personality, there are lot of interesting things about him that are the talk of cyber world.  Let us have a look at some of these.
Elon Musk Hair Transplant and His Balding
Many people talk about Elon Musk hair transplant and his balding. Elon Musk had lost a significant amount of hair earlier as can be seen from his old pictures. No wonder then that people think that Elon musk is bald but gone for a hair transplant. There is no doubt that Elon Musk must have done something to his hair. The big question however is what exactly did he do that brought about his thick hair. He must have had several options but he has himself never publicly revealed the details of the hair restoration techniques he went for.
What is Elon Musk Catgirls
Another news that sent shock waves in the scientific community and all around the world was the news about elon musk catgirl or the elon musk catgirls. In 2018 Elon Musk announced his entry into the field of bioengineering. He said that he would soon begin selling a line of genetically bred cat girls for the domestic market. Musk said, "After Trump failed to make anime real, I knew I was realistically the only person who could potentially make this a reality," Musk stated in a recent press release. "So I diverted some funding, hired some people, and 12 months later here we are. I just really want me some catgirls."
These genetically engineered Elon Musk Catgirl would be designed to act similar to a house cat, to provide companionship, comfort, and even entertainment. Elon Musk statement to the world media simply stated "Get ready to fuck some cats."
Elon Musk accent and Does Musk Stutter
There is no doubt that today Elon Musk is arguably the voice of an entire generation. He has already booked his place in history as a man who has revolutionized the world and bringing about changes for the better of humanity like no one. People are therefore curious about every aspect of this incredible man including his voice and the manner he speaks. Elon Musk accent is largely because of his upbringing in Pretoria, South Africa, and also due to his Canadian mother. Surely it doesn't matter what he sounds like, as long as he continues to impact the world and beyond the way, he is doing now. Nonetheless, he has an interesting and unique voice.
People also want to know why must stutter sometimes. The reason is simply that he is not a speaker but a scientist, entrepreneur, and visionary.
Elon Musk Laughing at Dead Deer
Another interesting episode is the Elon Musk Laughing at Dead Deer, which happened when Elon was at a Meme Review hosted by himself and Justin Roiland. He didn't laugh at many of the memes shown to him. However, when he saw the dead deer meme, showing a deer lying at the bottom of a pool, with the caption 'I think my dolphin broke' he started laughing. When he was told that it was a real image of a deceased deer, he started laughing even more. This episode became popular as the Elon musk deer episode.
Finally here are 21 Incredible Inspirational Elon Musk Quotes from someone who is so incredibly successful and powerful.  It would be waste not to listen to this man.
"I DON'T CREATE COMPANIES FOR THE SAKE OF CREATING COMPANIES, BUT TO GET THINGS DONE."
***Elon Musk***
"I SAY SOMETHING, AND THEN IT USUALLY HAPPENS. MAYBE NOT ON SCHEDULE, BUT IT USUALLY HAPPENS."
***Elon Musk***
"THERE'S A TREMENDOUS BIAS AGAINST TAKING RISKS. EVERYONE IS TRYING TO OPTIMIZE THEIR ASS-COVERING."
***Elon Musk***
"IT'S OK TO HAVE YOUR EGGS IN ONE BASKET AS LONG AS YOU CONTROL WHAT HAPPENS TO THAT BASKET."
***Elon Musk***
"SOME PEOPLE DON'T LIKE CHANGE, BUT YOU NEED TO EMBRACE CHANGE IF THE ALTERNATIVE IS DISASTER."
***Elon Musk***
"FAILURE IS AN OPTION HERE. IF THINGS ARE NOT FAILING, YOU ARE NOT INNOVATING ENOUGH."
***Elon Musk***
"I DON'T THINK IT'S A GOOD IDEA TO PLAN TO SELL A COMPANY."
***Elon Musk***
"THE FIRST STEP IS TO ESTABLISH THAT SOMETHING IS POSSIBLE; THEN PROBABILITY WILL OCCUR."
***Elon Musk***
"WHAT MAKES INNOVATIVE THINKING HAPPEN?… I THINK IT'S REALLY A MINDSET. YOU HAVE TO DECIDE."
***Elon Musk***
"IF YOU GET UP IN THE MORNING AND THINK THE FUTURE IS GOING TO BE BETTER, IT IS A BRIGHT DAY. OTHERWISE, IT'S NOT."
***Elon Musk***
"I WOULDN'T SAY I HAVE A LACK OF FEAR. IN FACT, I'D LIKE MY FEAR EMOTION TO BE LESS BECAUSE IT'S VERY DISTRACTING AND FRIES MY NERVOUS SYSTEM."
***Elon Musk***
"IF YOU'RE TRYING TO CREATE A COMPANY, IT'S LIKE BAKING A CAKE. YOU HAVE TO HAVE ALL THE INGREDIENTS IN THE RIGHT PROPORTION."
***Elon Musk***
"I THINK MOST OF THE IMPORTANT STUFF ON THE INTERNET HAS BEEN BUILT. THERE WILL BE CONTINUED INNOVATION, FOR SURE, BUT THE GREAT PROBLEMS OF THE INTERNET HAVE ESSENTIALLY BEEN SOLVED."
***Elon Musk***
"WHEN HENRY FORD MADE CHEAP, RELIABLE CARS, PEOPLE SAID, 'NAH, WHAT'S WRONG WITH A HORSE?' THAT WAS A HUGE BET HE MADE, AND IT WORKED."
***Elon Musk***
"I THINK WE HAVE A DUTY TO MAINTAIN THE LIGHT OF CONSCIOUSNESS TO MAKE SURE IT CONTINUES INTO THE FUTURE."
***Elon Musk***
"YOU SHOULDN'T DO THINGS DIFFERENTLY JUST BECAUSE THEY'RE DIFFERENT. THEY NEED TO BE… BETTER."
***Elon Musk***
"YOU HAVE TO SAY, 'WELL, WHY DID IT SUCCEED WHERE OTHERS DID NOT?"
***Elon Musk***
"WE HAVE A STRICT 'NO-ASSHOLES POLICY' AT SPACEX."
***Elon Musk***
"DISRUPTIVE TECHNOLOGY WHERE YOU REALLY HAVE A BIG TECHNOLOGY DISCONTINUITY… TENDS TO COME FROM NEW COMPANIES."
***Elon Musk***
"AS MUCH AS POSSIBLE, AVOID HIRING MBAS. MBA PROGRAMS DON'T TEACH PEOPLE HOW TO CREATE COMPANIES."
***Elon Musk***
"BEING AN ENTREPRENEUR IS LIKE EATING GLASS AND STARING INTO THE ABYSS OF DEATH."
***Elon Musk***
"I'VE ACTUALLY NOT READ ANY BOOKS ON TIME MANAGEMENT."
***Elon Musk***