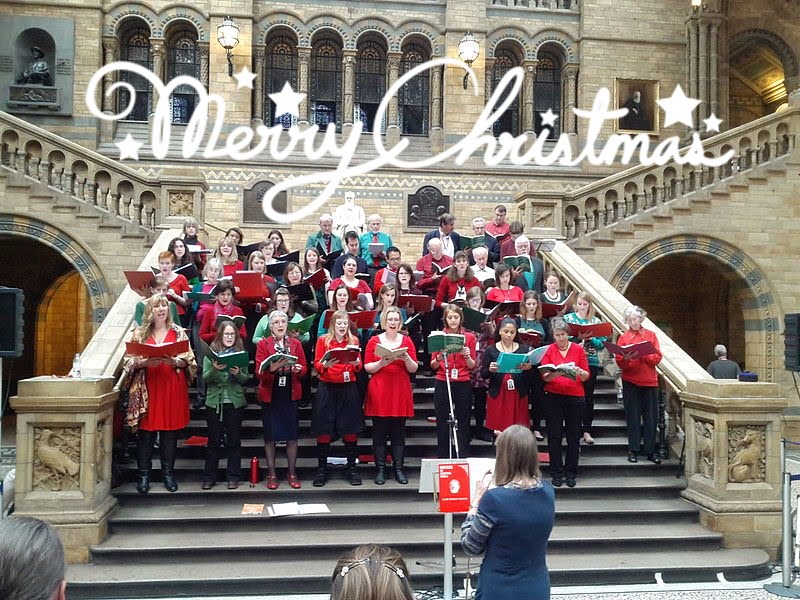 1. Christmas Carol singing is songs or hymns which are sung on the theme of Christmas. Christmas carols can also be termed as Christmas Music. It celebrates the birth of Jesus Christ. When we think of traditional Christmas Carols, the songs "Hark the Herald Angels Sing", "Joy to the World", "Silent Night" and other such beautiful songs come to our mind. Though these are today classics they are not very old. In fact, Carol Singing was being sung in Europe thousands of years ago in the form of folk or pagan songs which were sung during the Winter Solstice celebrations when people danced around giant stone circles and blazing fires. In fact, the term "Carol" if translated from these ancient dialects translates to "a dance song" or "dance around a circle accompanied by singing".
Carol Singing by Early Christians.
2. The pagan solstice celebrations, in turn, became Christmas Celebrations of the early Christians when they began to sing Christian songs instead of the fold or pagan songs. In AD 129, a Roman Bishop proclaimed that people should sing a song called "Angel's Hymn".  This is, in fact, the first musical composition associated with Christmas. Historians, however, are not sure how the song sounded as it is of very old origin.
ANGEL'S HYMN
BLESS me, befriend me, sweet Angel, I pray,
Watch me, defend me, by night and by day;
Shelter, enfold me within thy bright wings;
Guide me, uphold me in life's wanderings.
Beam on my gladness, thy joy I shall share;
Shine on my sadness and sorrow I'll bear;
Go thou before me, my path shall be clear;
Hover thou o'er me, no foe shall I fear.
Angel so holy, whom God sends to me
Sinful and lowly, my guardian to be!
Wilt thou not cherish the child of thy care?
Let me not perish, my trust is thy prayer.
Oh, may I never forget thou art near;
Keep, keep me ever in love and in fear.
Waking and sleeping, in labor and rest,
In thy sweet keeping, my life shall' be blest.
Early Carol Songs
3. Refulsit Omnium, written in the fourth century and sung in Latin is considered by many to be the first "real" Christmas carol, having strong religious connotations. Another famous early Christmas Hymn was written by Comas of Jerusalem for the Greek Orthodox Church in the year 760. Soon many composers came up all over Europe and they started writing Christmas Carols. These songs written in Latin were especially for Christian religious ceremonies. The public at large could not understand the lyrics. By this time the Latin language was also falling into disuse. By the twelfth century which can be termed as Middle Ages, people lost interest in celebrating Christmas altogether. They instead wanted to sing and dance at Christmas, as done during the winter solstice in ancient times.
Carol Singing in the Middle Ages
4. In the 9th and 10th centuries, the Christmas prose was introduced in Northern European monasteries. The Parisian monk Adam of Saint-Victor started to collect and develop music from the popular songs, thus introducing something which was closer to the traditional Christmas carol.
5. In the twelfth century St. Francis of Assisi began including tunes or "canticles" in his local language plays in Italy. These canticles recounted the tale of the birth of Jesus to the world in provincial local dialects, making them straightforward and mainstream to the general population. These hymns spread rapidly all through Europe with the assistance of voyaging troubadours, where they would sing Christmas ditties in the lanes. Growing independently from chapel tunes, a comparative routine with regards to going way to-entryway and singing great greetings was seen by antiquated Celts. This is called wassailing. Numerous ditties that have picked up notoriety today were imprinted in Piae Cantiones, a gathering generally medieval Latin melodies which were first distributed in 1582. Early, Latin types of ditties, for example, "Christ was conceived on Christmas Day", "Great Christian Men, Rejoice" and "Great King Wenceslas" can be found in this book. "Adeste Fideles" ("O Come all ye devoted") shows up in its present structure in the mid-eighteenth century, in spite of the fact that the words may have begun in the thirteenth century. The starting point of the tune is contested.
6. After 1410 hymns were typically sung in homes as opposed to in places of worship. Artists and singers who traveled from one place to another began singing these songs and the wordings were changed wherever they went to suit the local people. In 1647 when Puritans came to control in England the festival of Christmas and singing Carols were prohibited. Be that as it may, carols endured on the grounds that individuals still sang them stealthily. Many of the carols came from as early as the fourteenth century when people began to shake loose from the Church's restrictions and enjoyed singing these songs in their native tongues.
7. Until the Victorian time, carol singing remained unrecognized. By then two men, William Sandys and Davis Gilbert, made an accumulation of old Christmas music from towns in England. During the Victorian era, carols were sung by official carol singers who were called Waits and by many orchestras and choirs in the city of England. People wanted to sing Christmas songs and therefore, carols once again became popular. New carols services propped up and became instantly popular, as also the custom of singing carols in the streets. These customs are still popular today.
Christmas Songs in Early Nineteenth Century
8. Carols singing picked up and became popular among the masses after the Reformation in the nations. Reformers like Martin Luther composed carols and energized their utilization in church worship. This was an outcome of the way that the Lutheran renewal heartily invited music. The singing of carols was further popularized in the 19th and 20th centuries when they were published in book forms, Oxford University Press (OUP) being the pioneer.
Publication of Books on Carol Singing
9. One of the earliest Christmas music collections printed was Piae Cantiones, a Finnish songbook. First published in 1582, it contained a number of songs that have survived even to this day. The publication of Christmas music books in the 19th century such as Christmas Carols helped to widen the popular appeal of carols. Composers like Arthur Sullivan helped to popularise the carol once again. Favorites like "Good King Wenceslas" and "It Came Upon the Midnight Clear", a New England carol written by Edmund H. Sears and Richard S. Willis became very popular.
10. In the 20th century, Oxford University Press (OUP) published some very successful Christmas music collections. The Oxford Book of Carols, first published in 1928 by Oxford University Press (OUP), was a notably successful collection. Composed by Martin Shaw, Ralph Vaughan Williams, and Percy Dearmer, it revived a number of early folk songs and established them as modern standard carols. All these books have proved to be a popular resource for choirs and church congregations all over the world and remain in print and available even today. The list of these books with first publications is as follows:-
Christmas Carols, New and Old (1871)
Oxford Book of Carols (1928)
Carols for Choirs (1961)
New Oxford Book of Carols (1992)
A Shorter New Oxford Book of Carols (1992)
Carols for Choirs series (1961), available in five volumes.
Carols The Church Traditions
11. Almost all the well-known carols were not sung in the church until the second half of the 19th century. Charles Wesley is credited with writing at least three Christmas carols, of which the best known is "Hark! The Herald Angels Sing". The popular "Silent Night" comes from Austria and this carol was first performed on 24 December 1818 at the Nikolaus-Kirche, which is the St. Nicholas Church, in Oberndorf, Austria. Its first English translation was done in 1871.
12. The texts of many medieval carols focus on the Virgin Mary or on the birth of Christ, but they were not by definition used in Church, except perhaps in certain processions; instead, they were celebratory and devotional works. Many medieval carols adapted texts which contained both Latin and English text; some of these lyrics have subsequently been used by more recent composers.
New traditions of Christmas Songs and Christmas Music
13. The surprisingly modern carol service tradition at King's and elsewhere has done much to popularise the nineteenth-century repertoire, in addition to commissioning new works subsequently taken up by choirs around the world. As Christmas evolved into a family-centred celebration in the Victorian period, Christmas music entered the homes of people through song-books having collections of old as well as new songs.
The Best Christmas Songs which are All Time Popular
14. Many traditional Christmas carols focus on the Christian celebration of the birth of Jesus Christ while others celebrate the Twelve Days of Christmas that range from 25 December to 5 January. Therefore many Carols can be related to St Stephen's Day, falling on 26 December, St John's Day, falling on 27 December, Feast of Holy Innocents falling on 28 December, St Sylvester's Day which falls on the last day of the year ie 31 December and finally the Epiphany. The examples of these carols are, We Three Kings, which is an Epiphany song, Good King Wenceslas, which is a carol for St. Stephen's Day. Nonetheless, many Christmas Carols both religious and secular are now regarded as Christmas songs and sung during the Christmas season. Hundreds of Christmas carols have been penned over several centuries, but only a few have achieved legendary status. Some of the most popular and evergreen christmas carols are as follows:-
"Silent Night". This is Considered to be one the most famous Christmas carol of all. An Austrian priest Joseph Mohr, composed the song with friend Franz Gruber on Christmas Eve despite the fact that their church organ was broken.
"Hark! The Herald Angels Sing". Another very popular carol which was composed by Felix Mendelssohn and written by Charles Wesley; later on it was amended by George Whitefield and Martin Madan.
"Jingle Bells". James Lord Pierpont
"While Shepherds Watched Their Flocks". words: Nahum Tate, music (UK): "Winchester Old" from Este's Psalter adapted from Christopher Tye, music (US): adapted from Handel, 1728; arranged in Harmonia Sacra, 1812.
"Joy to the World". Joy to the World, The Lord is come is also one of the most popular carols. It's lyrics are based on Isaac Watt's 1719 translation of the Psalms, Verse 98. The music was arranged and composed by Lowell Mason in the 19th century on the themes Handel's Messiah.
"O Come All Ye Faithful". Englishman John Francis Wade is credited with the words and collaborated with John Reading to give the hymn a melody and published it around 1751. It became a popular church hymn a century later when Frederick Oakeley translated it from Latin into English in 1841.
"A Christmas Carol". Words and music of this carol is by Charles Ives.
"Mary's Boy Child". written by Jester Hairston.
"Star of the East". This was written by Alfred Hans Zoller and translated by George Cooper in 1890 and music composed by Amanda Kennedy in 1883.
Also please check out ….