Ratan Tata Early Life and Education
Ratan Tata, belongs to a wealthy and well known Parsi family of Mumbai, the TATAs.  The TATAs are a prominent family of Indian industrialists and philanthropists.  When he was just 7 he felt he felt hardships due to the separation of his parents at this tender age.  He went for studies in the USA and was educated at Cornell University, Ithaca, New York.  Here he earned a B.S. in architecture in 1962 before returning to work in India. He is also an alumnus of Harvard School from where he did the Advanced Management Program.
How Ratan Tata Started His Business Career
Ratan Tata gained experience in a number of businesses in the Tata Group.  He was named director in charge of one of the companies in 1971, the National Radio and Electronics Company.  A decade later in 1991, Ratan Tata then became chairman of Tata Industries, when succeeded his uncle, the great  J.R.D. Tata, as chairman of the Tata Group of Industries.
Ratan Tata, as a Successful Entrepreneur 
Upon assuming leadership of the conglomerate, Tata aggressively took the legacy to new heights with a focus on expansion and on globalizing its businesses.  NELCO was making losses,  he took charge of this company and recovered remarkably from big losses.   Ratan Tata went on to become Director and Group Chairman, he became Group Chairman in the year 1991.   In the year 2000 Tata group acquired the London-based Tetley Tea for $431.3 million, and in 2004 it purchased the truck-manufacturing operations of South Korea's Daewoo Motors for $102 million.  Under the leadership of Ratan Tata, Tata Group acquired the Corus Group, Jaguar, and Land Rover.
Leadership Skills of Ratan Tata
In 2007, one of the biggest steel companies in India the  Tata Steel completed the biggest corporate takeover by an Indian company.  It acquired the giant Anglo-Dutch steel manufacturer Corus Group for a total of $11.3 billion.   The next year 2008, saw a milestone in the history of the company when  Tata Nano, the common man's car was launched by the company at the New Delhi Auto Expo.
Ratan Tata Interim returns as Interim Chairman
Ratan Tata had retired from the company but briefly served as interim chairman beginning in October 2016, when his successor, Cyrus Mistry was removed by the company.   Tata returned back to his retirement in January 2017 and Natarajan Chandrasekaran was appointed as the next chairman of the Tata Group.
Ratan Tata, Honors, Awards and Achievements 
Ratan Tata  changed the thinking of Indian entrepreneurs. Ratan Tata received many awards and honors during his career,  He received the Padma Bhushan, one of India's most distinguished civilian awards, in 2000. Ratan Tata has inspired young entrepreneurs with his leadership ability, risk-taking ability, and vision. Ratan Tata saw very early the dream of shining India brightly and made it into reality. With incredible self-confidence and a profound understanding of the changing times, he always remained as the front runner. He showed that Indians have the courage and capability of ruling the world. He said that the immense self-confidence that we see in every Indian is their biggest contribution to the nation.
Petetion Seeking Bharat Ratna for Ratan Tata
Ratan Tata has been a great inspiration and role model to the Indians at large.  No wonder there is growing demand for Bharat Ratna for him.  One such petition has been started ed by a user on change.org to confer Bharat Ratna on industrialist Ratan Tata.  It has already garnered over 408,044,416 supporters — and counting.  According to the petition, "Ratan Tata has been a shining example of humility and philanthropy" who has "helped establish and finance numerous research, educational and cultural institutes in India".
He truly deserves to be conferred with Bharat Ratna as he has been an inspiration to millions of Indians.  Here are 21 Inspirational Quotes of Ratan Tata from which you can find motivation for success.  Please share them with your family,friends and colleagues.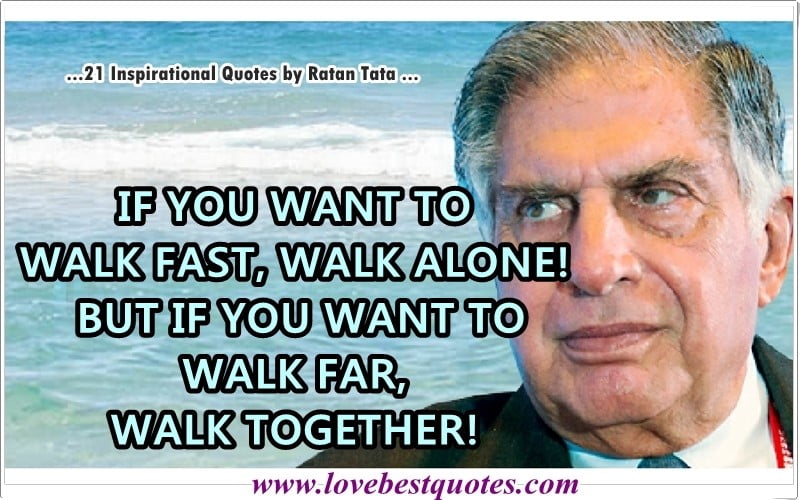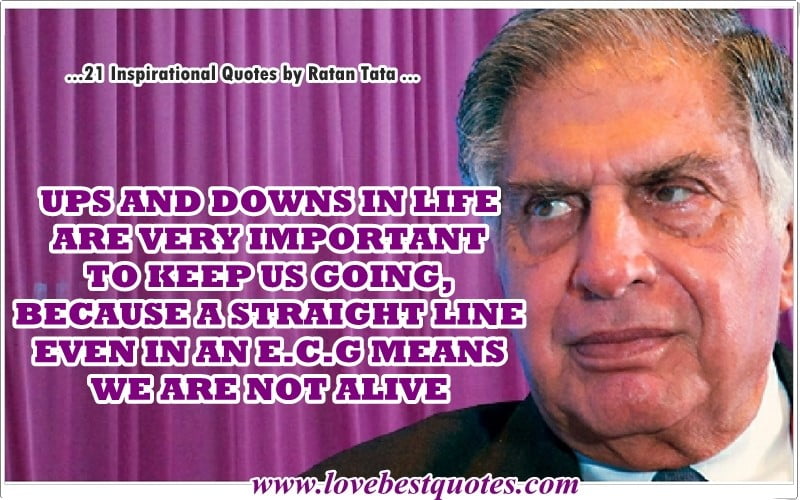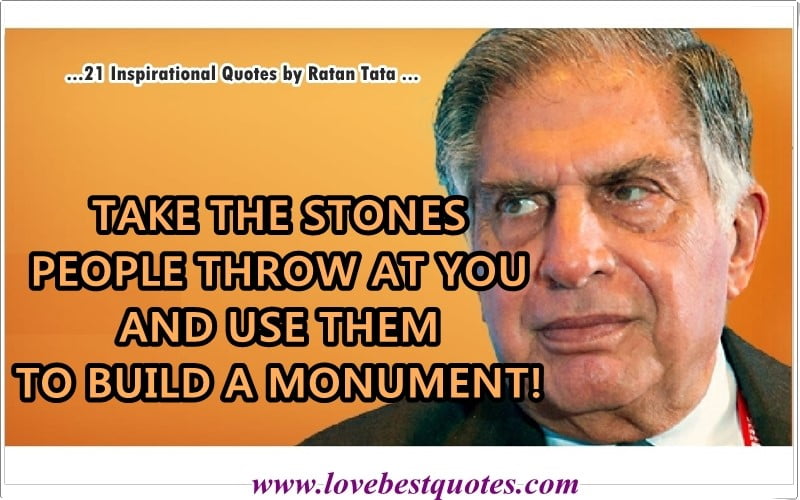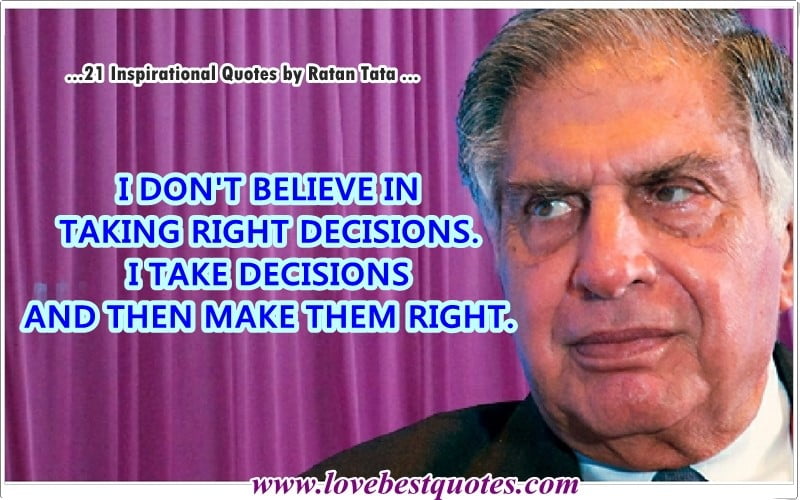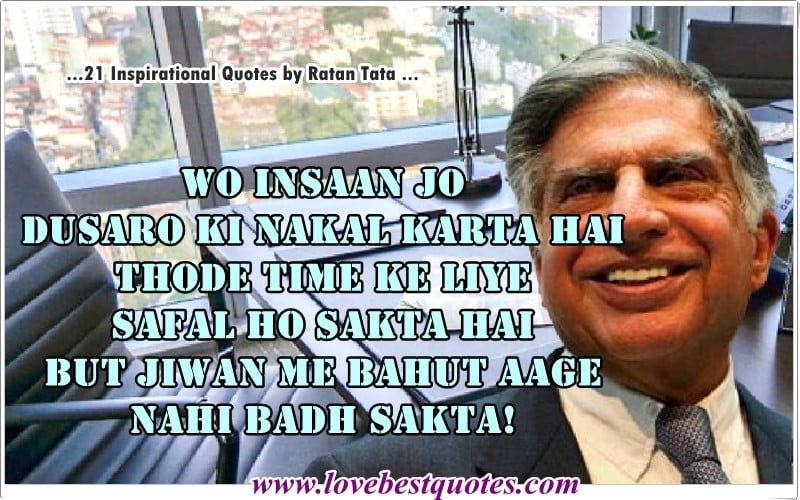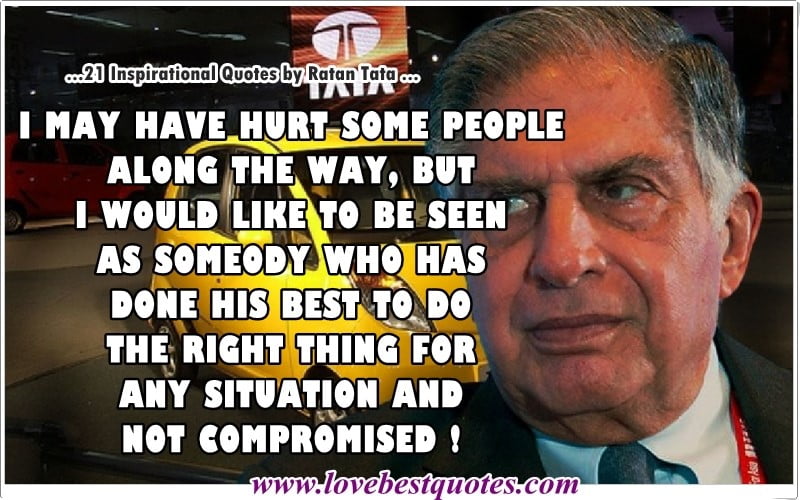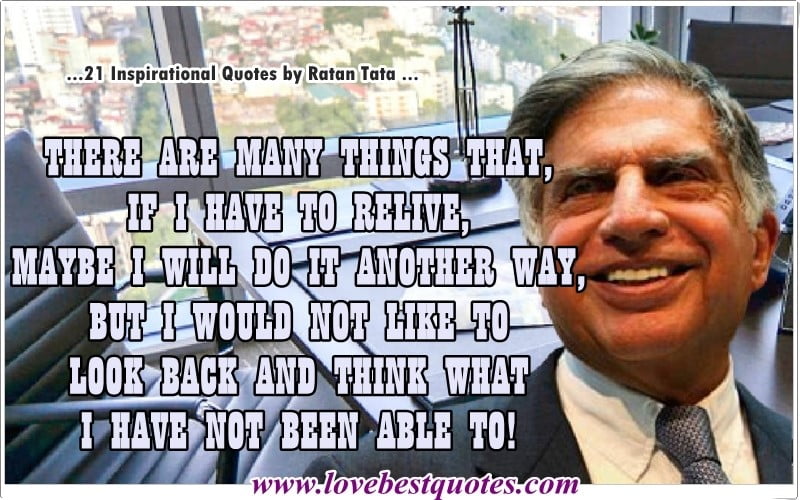 With over 100 companies offering products and services across 150 countries, 700,000 employees contributing a revenue of US$ 100 billion, the Tata Group is India's largest and most globalized business conglomerate.
The Tatas are known for salt, software, cars, communications, housing, hospitality, steel and gold. But how did they come so far? How did they groom leadership, delight customers, drive business excellence and acquire global corporations? How did they maintain a brand and corporate values that are considered the gold standard? A deepdive into the Tata universe, The Tata Group brings forth hitherto lesser-known facts and insights. It also brings you face-to-face with the most intriguing business decisions and their makers. How did Tata Motors turn around Jaguar Land Rover when Ford failed to do so? Why wasn't TCS listed during the IT boom? Why wasn't Tata Steel's Corus acquisition successful? This definitive book tells riveting tales and provides insider accounts of the adventure and achievement, conflict and compassion, dilemmas and decisions of dozens of Tata companies. The result of over a decade of rigorous research and interviews with more than a hundred leaders at Tata, this book decodes the Tata way of business, making it an exceptional blend of a business biography and management classic.